Between 1900 and the late 1930's, the Twin Cities were a haven for organized crime. In particular, gangsters flocked to St. Paul in part due to the O'Connor layover agreement instituted by John O'Connor shortly after his promotion to chief of police on June 11, 1900.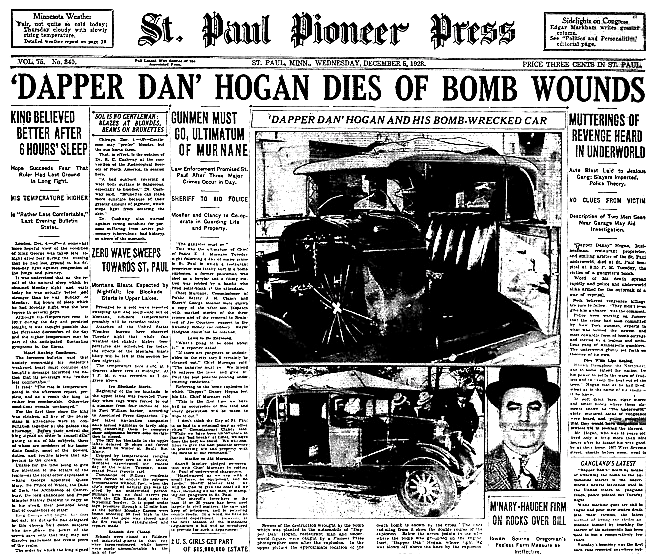 The O'Connor system allowed criminals to remain in St. Paul under three conditions: they had to check in with police upon their arrival; they had to give a portion of their earnings to the police department; and while in St. Paul they couldn't commit any major crimes, though Minneapolis was fair game.
The prohibition of alcohol from 1919 until 1933 also contributed to the rise of St. Paul as a magnate for gangster activities. The Volstead Act (Prohibition) banned the manufacture, sale, and transportation of alcoholic beverages. The closing of breweries and distilleries resulted in the rise of bootlegging and St. Paul became known as one of the "wettest" cities in the nation. Prohibition ultimately led to an increase in organized crime as well, since the mob controlled bootlegging operations.
During this time, well known criminals such as John Dillinger, Baby Face Nelson, Machine Gun Kelly, the Barker-Karpis Gang and even Al Capone spent time in the Twin Cities. The arrangement lasted for almost forty years, finally ending when widespread corruption forced crusading local citizens and the federal government to intervene.
Below is a list of some of the historic Twin Cities gangster locations and hideouts where criminal events occurred or gangsters were known to hang out during the Twin Cities' 'Gangster Days.' Open Map…
More to come…