On This Date In Twin Cities History - December 19, 1882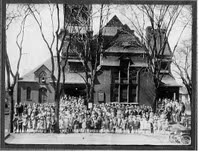 On this date in 1882, the Como Avenue Congregational Church is organized with twenty-one members. The Reverend Americus Fuller was its first pastor.
A little more than four years later on January 9, 1887, the congregation dedicated its church building located at 1037 14th Avenue Southeast, a half block north of Como Avenue in Minneapolis.
In 1950, the church changed its name to Como Congregational Church. Significant modifications were made to the building itself in the 1950s: the bell tower was removed and the brick façade was stuccoed.
Como Church ceased to be Congregationalist in 1985 and became the home of Como Evangelical Free Church. The building still stands today and is home to the Oakeshott Institute which promotes the preservation of sword weaponry and armor.
Image: Como Avenue Congregational Church in Minneapolis