On This Date In Twin Cities History - November 30, 1889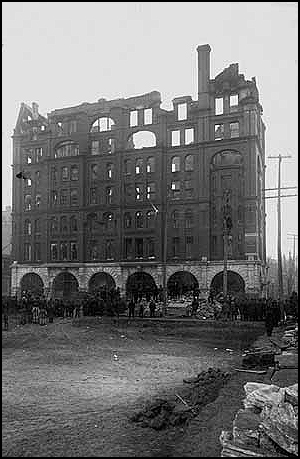 On this date in 1889, the Minneapolis Daily Tribune headquarters, an eight-story brick building at Fourth Street and First Avenue South in downtown caught fire. Seven people were killed and 30 injured and the building and presses were a total loss.
The fire was believed to have started in the Union League Club room on the north side of the building and travelled across a hallway and quickly up an elevator shaft.  The building had only one fire escape, which was also located on the north side of the structure. The building also had only a single stairway, a narrow spiral arrangement near the elevator shaft.
The fire alarms sounded shortly after 10:00 PM that night.  It was reported that the alarms were not immediately taken seriously by the men at work, although some did make their way down the stairs.
Three daily newspapers and one weekly newspaper were printed in the building at the time.  The Tribune, Tribune – Star and the Evening Journal were all prepared to move from the building in a few months. The Journal, whose new building was located across the street, was to move out first.  The Tribune had also broken ground on their new building across the street on the corner of First Avenue.
In spite of the fire, the Tribune somehow managed to publish a paper the next day.  The paper's general manager, A.J. Blethen, traveled to St. Paul the night of the fire to make arrangements with the St. Paul Globe to publish a special edition of the Tribune.