On This Date In Twin Cities History - November 23, 1891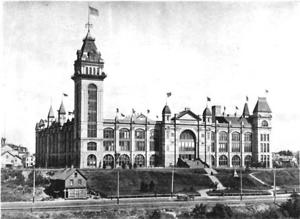 On this date in 1891, Minneapolis is awarded the Republican National Convention beating out California, Ohio, Nebraska, Michigan and New York. The convention, which ran from June 7-10, 1892 was held in the Industrial Exposition Building in Minneapolis.
The 1892 Republican National Convention was the first convention where women were allowed to be delegates. Therese Alberta (Parkinson) Jenkins, a delegate from Wyoming, cast the first vote by a woman for president.  During the convention, the party nominated President Benjamin Harrison for re-election on the first ballot and Whitelaw Reid of New York for Vice President.
The Industrial Exposition Building was designed by the firm of Isaac Hodgson and Son. The main part of the structure rose eight stories and featured a 240 foot corner tower.  The exterior walls were constructed of masonry and the interior included metal support structures. The building's capacity was estimated to be between 11,000 and 15,000.
The structure's cornerstone was laid with much fanfare on May 29, 1886, during a public ceremony attended by more than five thousand people.  Ninety-seven days later, on August 23, 1886, a grand celebration was held for the opening of the new building and its first exposition. Local dignitaries such as Senator Cushman K. Davis and Archbishop John Ireland spoke at the dedication.
During the building's first year, the exposition was successful, both financially and in the eyes of the public.  Attendance and revenue remained strong the following year as well. However, in subsequent years, excitement for the exposition waned and it began losing money.  By 1893, exhibitors had disappeared and the operations of the building were in financial trouble.
In 1896, Thomas B. Janney purchased the building at public auction for the bargain price of $25,000. Over the next seven years, it was used occasionally as a performance venue. The Minnesota Orchestra hosted their first shows in the Industrial Exposition Building and famous musicians and performers such as Johann Strauss and New York's Metropolitan Opera also performed there.
In 1903, Marion Savage, owner of race horse Dan Patch, bought the building and turned it into the International Stock Food Company.  In the 1930s, the building became a mail-order facility.
The last owner of the Industrial Exposition Building was the Coca-Cola Company.  In 1940, they razed the structure to make room for a new bottling plant.  All but the 240 foot tower were torn down. The tower stood for a number of years after as a memorial of what was once one of the grandest buildings in the city.
Today condominiums sit on its former site near St. Anthony Main.