On This Date In Twin Cities History - October 27, 1991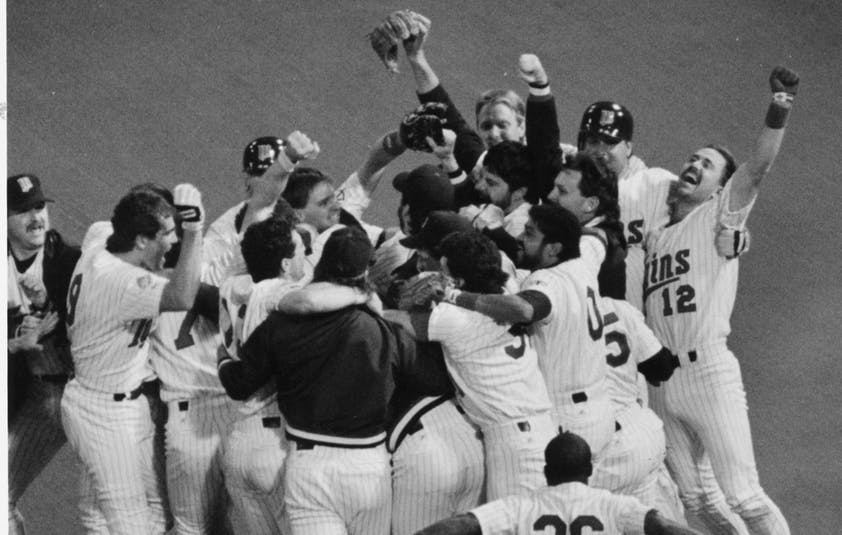 On this date in 1991, the Minnesota Twins win their second World Series championship in four years defeating the Atlanta Braves 1-0 in Game 7.  Jack Morris pitches all 10 innings in the deciding game of the World Series that is widely considered the best ever played.
Five of  the seven games were decided by a single run, four games were decided in the final at-bat and three games went into extra innings.  As with the 1987 World Series, the home team won every game.
The series was also unique because of the regular season records of the two teams the previous year.  Both Minnesota and Atlanta finished the 1990 season in last place.  Before 1991, no league champion had ever finished the previous season in last place.
In the 10th inning of Game 7, with the scored tied 0-0, bases loaded and 1 out, utility man Gene Larkin came to the plate. On the first pitch he saw, Larkin drove a single into deep left-center over the drawn-in outfield, scoring Gladden with the series-winning run.  Jack Morris pitched all 10 innings for a complete game and was named the World Series MVP.
In terms of innings played, the 1991 World Series shares the record for the longest seven-game World Series ever (69 innings) with the 1924 World Series, which ironically included the Washington Senators – the team that moved to Minnesota to become the Twins.