On This Date In Twin Cities History - October 25, 2002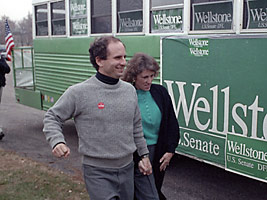 On this date in 2002, Senator Paul Wellstone, along with seven others, die in a plane crash in northern Minnesota. The other victims in the crash were his wife, Sheila; one of his three children, Marcia; the two pilots, his driver, and two campaign staffers.
The airplane was en route to Eveleth when it crashed into dense forest about two miles from the airport.
Wellstone was an academic, author, and DFL Senator who represented Minnesota in the United States in Congress from 1991 until his death in 2002. He was known for his work for peace, the environment, labor, and health care.
Wellstone famously traveled the campaign trail in an old green school bus and ultimately rode it to Washington D.C. in January of 1991 after winning his first term as a Senator.