On This Date In Twin Cities History - October 18, 1901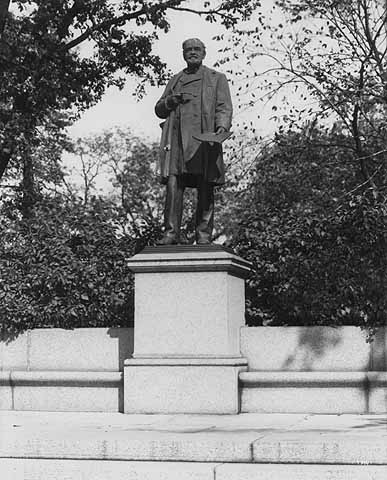 On this date in 1901, John Sargent Pillsbury, Minnesota's eighth governor, passes away at the age of 74. Born in 1827 in Sutton, New Hampshire, Pillsbury came to Minnesota in 1855 and settled in St. Anthony (now part of Minneapolis).
After arriving in Minnesota, he pursued a variety of business interests including real estate, hardware and lumber. His greatest accomplishment, however, was the establishment of what eventually would became one of the world's largest flour-milling businesses – the C.A. Pillsbury and Company.  He co-founded Pillsbury with his nephew, Charles, for whom the company was named.
Pillsbury served six terms as a senator in the Minnesota state legislature and was elected governor in 1877. He acted as the president of the University of Minnesota's Board of Regents and is referred to as the "Father of the University." Among other things, Pillsbury Hall on the University of Minnesota's old campus historic district is named for him.
The statue of Pillsbury located across Pillsbury Drive from Burton Hall on the University of Minnesota campus in Minneapolis (above), was created by Daniel Chester French, who also sculpted the massive Abraham Lincoln statue in the Lincoln Memorial in Washington D.C.  The same artist also created the "Progress of the State" (Quadriga) sculpture atop the Minnesota State Capitol.  The Pillsbury statue, dedicated on September 12, 1900, was erected by alumni and friends of the University of Minnesota to honor the dedication of John S. Pillsbury to the University.