On This Date In Twin Cities History - October 14, 1946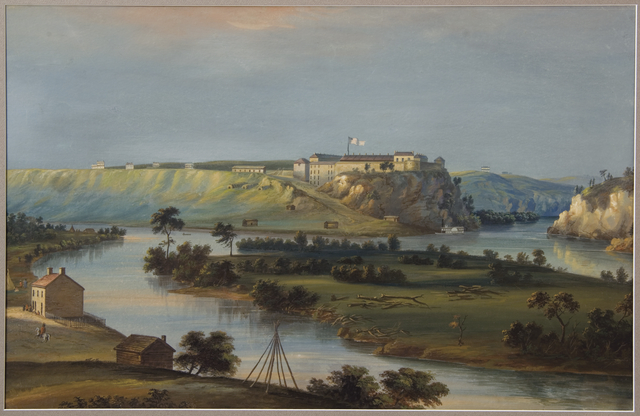 On this date in 1946, Fort Snelling is closed as a military post. The garrison flag in front of post headquarters was lowered for the last time, folded and presented to the wartime post commander Colonel Harry Kealey.
Founded in 1819 as Fort St. Anthony, it was primarily intended to protect the northwestern territories from Canadian and British encroachment. The original fort was built between 1820-1824. In 1825, following the fort's completion, the Army renamed it Fort Snelling in honor of its commander and architect.
In 1858, as the need for a frontier military post in the region became less important, the Army sold Fort Snelling to Franklin Steele for $90,000. In 1862, during the Civil War, Franklin Steele leased Fort Snelling back to the War Department for use as an induction station and more than 24,000 recruits from Minnesota were trained there.
Fort Snelling expanded in the years following the Civil War. From 1882 to 1888 the fort was garrisoned by the Twenty-Fifth United States Infantry Regiment, a segregated African American unit often referred to as the "Buffalo Soldiers". During the US-Dakota War of 1862, the Army used it as an internment camp for hundreds of Dakota women, children and elders. In 1917-18, Fort Snelling was used as a processing center for thousands of Minnesota recruits, and during World War II the fort was used as a Military Intelligence Service Language School to teach Japanese to Army personnel.