On This Date In Twin Cities History - September 28, 1918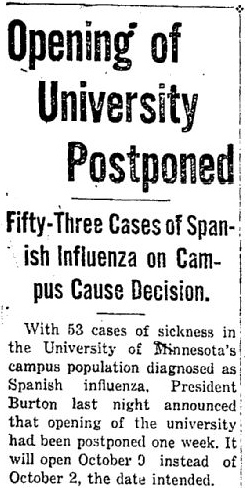 On this date in 1918, University of Minnesota President, Marion Burton, postpones opening the University due to 53 diagnosed cases of Spanish Influenza in the campus population. These were some of the first cases of the flu diagnosed in Minnesota during the 1918-19 Spanish Influenza pandemic.
The flu infected an estimated 500 million people worldwide and an estimated 20 million to 50 million people died. More than 25 percent of the U.S. population became sick, and some 675,000 Americans died during the pandemic. In St. Paul and Minneapolis alone, nearly 19,000 people were infected and almost 1,400 people died as a result of the flu.
Image: The Minneapolis Sunday Tribune – 09/29/1918