On This Date In Twin Cities History - September 16, 1958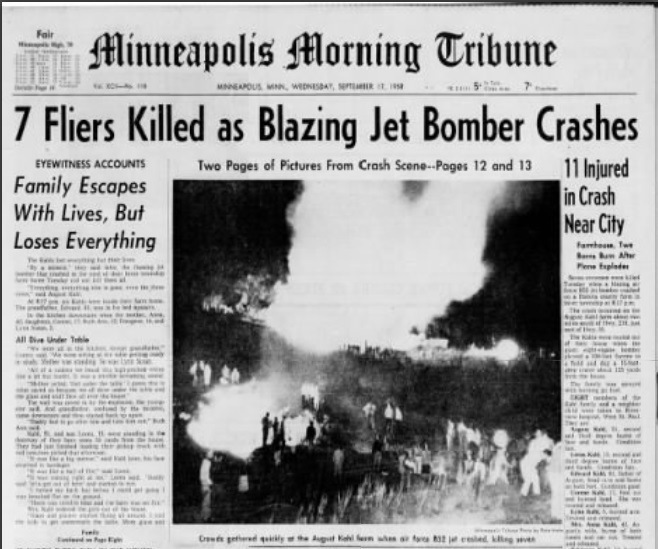 On this date in 1958, a U.S. Airforce B52D Strattofortress on a Cold War training mission crashes in a cornfield on the August Kahl farm located in Inver Township (now Inver Grove Heights).
Seven of the planes eight crew members died in the crash. On the ground, the crash destroyed a house and two barns and injured eleven others including eight members of the Kahl family.
The flight originated from Loring Air Force Base in Limestone, Maine. After practicing bomb runs in several states, the B52 flew to the Twin Cities to simulate a nuclear strike. When the plane's flight controls malfunctioned, the tail broke off, and the plane began falling from 36,000 feet. Co-pilot Captain Jack D. Craft parachuted from the burning plane when it started to disintegrate in the air. He was the only crew member to survive the crash.
"The craft dug a furrow 300 feet long, 100 feet wide and 25 feet deep," the Pioneer Press reported at the time. "Metal parts were found over a 5-square-mile area."
Today, a stone marker and plaque mark the crash site near the intersection of Brooks and Broderick boulevards near Inver Hills Community College.
Image: Front page of the Minneapolis Morning Tribune – September 17, 1958