On This Date In Twin Cities History - September 8, 1906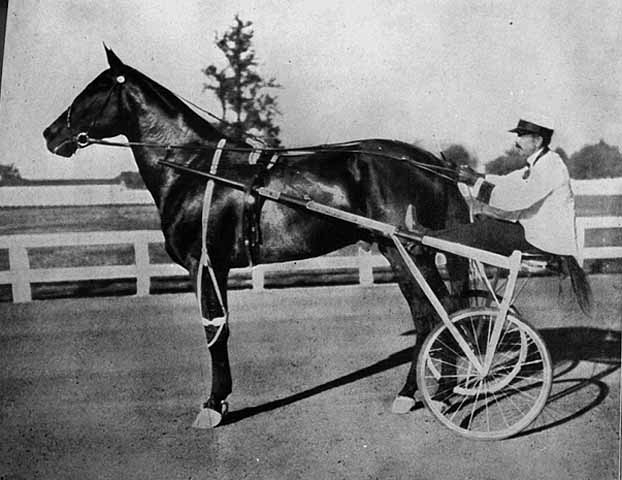 On this date in 1906, Dan Patch, the noted American Standardbred pacer set a world record for the fastest mile by a harness horse at the Minnesota State Fair in a time of 1:55.
Dan Patch, a bay Standardbred stallion, was born on April 29, 1896 to breeder Daniel (Dan ) Messner Jr. in Oxford, Indiana.  He began his racing career in 1900 as a four-year-old and rose to prominence under Messner's ownership. In 1901, Dan Patch won 12 races and was so dominating that no other horses were entered against him in what would have been his last race of the year in Terre Haute, IN.
In a surprise turn of events, Messner sold Dan Patch to Manley E. Sturges of New York in 1902 for $20,000. On September 29, 1902, he tied the one mile world record time of 1:59 1/4 at the Readville racetrack in Boston, MA.
During Dan Patch's rise to fame, Marion William Savage became an keen admirer of the horse. Savage was a resident of Hamilton, (later Savage) Minnesota and owned and operated the International Stock Food Company.
Savage made multiple offers to Sturges for the horse and finally succeeded in purchasing him in December 1902 for the unheard of price of $60,000.
Over the next 4 years, Dan Patch set and broke multiple 1/2 and 1 mile race records and become a national celebrity.  Throughout his life, Dan Patch was undefeated in open competition and dominated the landscape of harness horse racing so much that other owners eventually refused to race their horses against him.
Dan patch retired from racing in 1909 as the holder of nine world records and spent the rest of his life showing at exhibitions.  Savage was very proud of Dan Patch, and when not on exhibition, the horse lived in Minnesota, either in the stable of Savage's Minneapolis mansion or at Savage's sprawling farm in Hamilton in an extravagant stable known as the "Taj Mahal".
Dan patch died of a heart attack on July 11, 1916. Savage, who so loved the horse, died a day later on July 12, 1916.  Dan Patch is believed to have been buried somewhere on the "Taj Mahal" property in Savage, MN in an unmarked grave.
Dan Patch was inducted into the Harness Racing Museum & Hall of Fame in 1953 and the Canadian Horse Racing Hall of Fame in 2019.