On This Date In Twin Cities History - July 22, 1850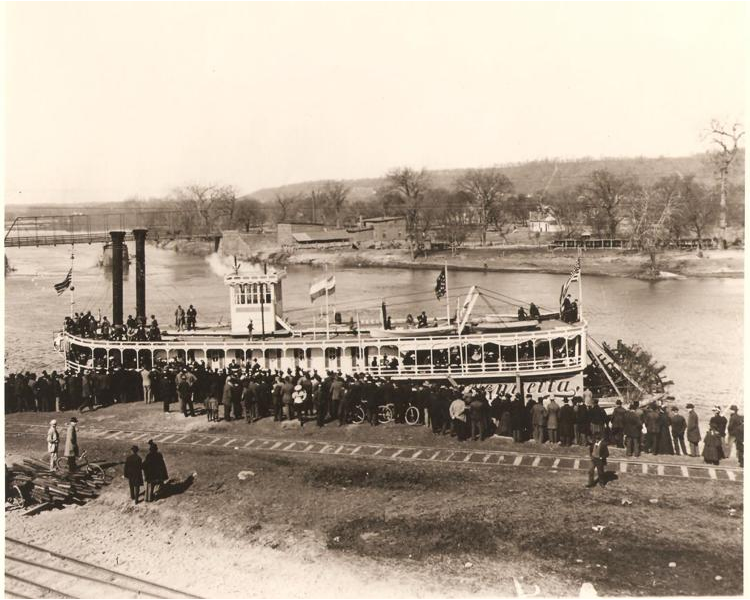 On this date in 1850, the steamboat "Yankee" leaves on a record setting trip up the Minnesota River to prove that it was navigable for large steamships by travelling upstream from Fort Snelling.
In 1847, the daily Boston Atlas newspaper published an article claiming that the Minnesota River was navigable by steamboat to the foot of the first rapids near the town of Carver and that little improvement
would be necessary to make it navigable for more than a hundred and fifty miles above its mouth. The article was reprinted in the Galena (IL) newspapers, and over the next two years steamboat traffic increased commerce along the Mississippi River between Galena and the territory surrounding Fort Snelling.
The newspaper reports spurred riverboat captains to push their steamboats further up the Minnesota River from its confluence with the Mississippi.  Some posted signs along the river to mark the furthest point of their travels for bragging rights.
On July 18, Captain Daniel Able of the the steamship "Anthony Wayne" left St. Paul to recapture the distance record he had previously set but was broken by the "Nominee." Able navigated the Minnesota River to a point a few miles below Mankato.
On July 22, 1850, Captain Martin K. Harris, joined by a number of vacationers, left St. Paul on the steamship "Yankee",  determined to set a new record for the furthest navigation upstream from Fort Snelling.  After several days of cruising upriver, the vessel passed the markers left by other ships, eventually reaching a point above present-day Judson in Blue Earth County.  At this point, the captain "decided to turn back since the warm weather and swarms of mosquitoes were proving too much for the adventurous excursionists."
According to the writings of Patrick Cantwell, who arrived in the area in the early 1850s and settled in LeSeur, the towns of Mankato, Le Sueur and Shakopee were all settled because of their steamboat landings.  Poet and author Henry David Thoreau was perhaps the most famous person to travel by steamboat on the Minnesota River when he traveled to the Sioux Agency in 1861.
The farthest up the river steamboats were able to navigate was the mouth of the Yellow Medicine River near the Upper Sioux Agency.  Through the 1860s steamboats remained a vital source for shipping grain and other supplies, but the railroads would soon take over.

The last known steamboat trip on the Minnesota was in May 1897 when the "Henrietta" made a sightseeing trip from St. Paul to Mankato and back.
Sources:
Peterson, William J.,

The Early History of Steamboating on the Minnesota River

Krohn, Tim, "Steamboats used the river highway", Mankato Free Press, July 13, 2008