On This Date In Twin Cities History - July 21, 1884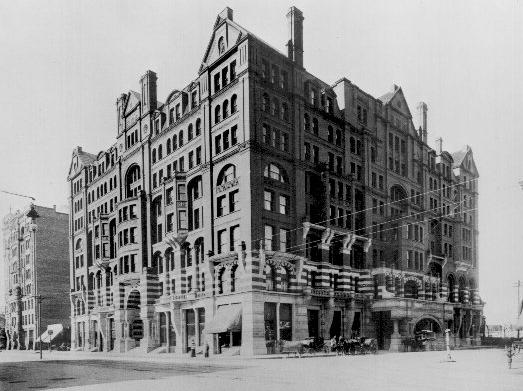 On this date in 1884, the West Hotel in Minneapolis opens. The hotel was designed by Leroy S. Buffington who is credited as being the father of the modern skyscraper.
The West Hotel was Minneapolis' first grand hotel. It included 407 luxuriously furnished rooms and 140 baths.  It featured an lavish, cavernous lobby that was billed as the largest in the nation at the time. The lobby was unique then in that it stood 95 feet tall with no supporting pillars.
The Queen Anne style building featured an elaborate architectural look that included gable roofs, projecting bay windows, towers, and dormer windows.  The building was Minneapolis's largest and most luxurious hotel for many years after its completion.
The West hotel was situated at the southwest corner of  Hennepin Avenue and Fifth Street, which is the current location of the Shubert Theatre, (which was moved there in 1999.)  It was located at the center of an expanding entertainment district and played host to such well-known public figures as Mark Twain and Winston Churchill.  It also catered to delegates of the 1892 Republican National Convention which was held at the Exposition Building across the Mississippi River.
On January 10, 1906, a massive fire that started in the base of one of the building's elevator shafts raged through the hotel killing 10 people.  As a result of the fire, and a general downturn in the economy, the West began a steady period of decline.  Finally, in 1940, after standing proudly fore 56 years, the West Hotel was razed.