On This Date In Twin Cities History - June 15, 1933
On this date in 1933, William Hamm Jr., president of the Theodore Hamm's Brewery, was kidnapped by the Barker-Karpis gang near his home at 671 Greenbrier Avenue in St. Paul.
Hamm was forced into the back of a car and taken to Wisconsin, where he was forced to sign four ransom notes. He was then moved to a hideout in Bensenville, Illinois, were he was held until the kidnappers received $100,000 ransom.
Once the money was handed over, Hamm was released near Wyoming, Minnesota.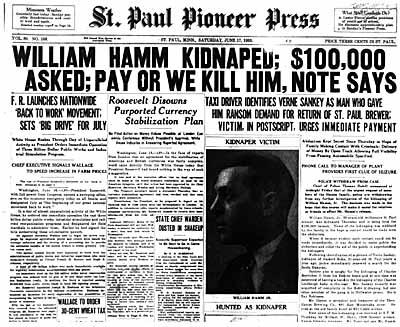 St Paul Pioneer Press from June 17, 1933