On This Date In Twin Cities History - June 9, 1956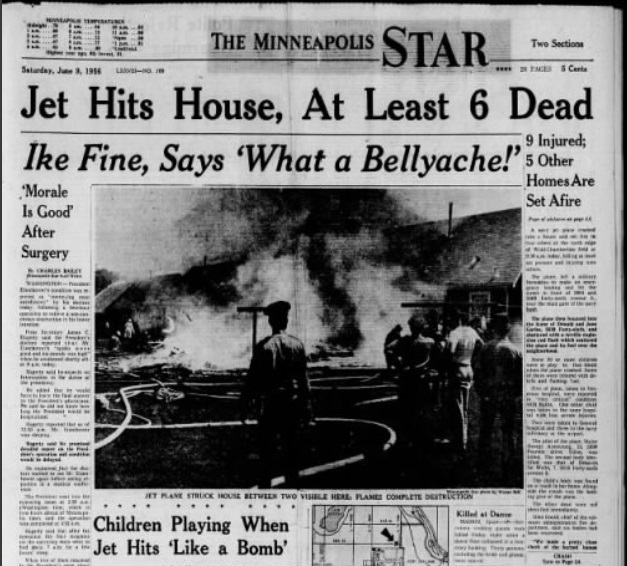 On this date in 1956, a U.S. Navy F9F Panther jet fighter plane crashed into a house and set fire to five others at the north end of Wold-Chamberlain Field in Minneapolis (now Minneapolis-St. Paul International Airport) killing six people and injuring nine others.
Just before the crash occurred, three Navy planes had been flying in military formation neat the airport. One of the planes piloted by, Major George Armstrong, of Edina, broke formation to make an emergency landing. On approach back to the navy base, the plane hit the street in front of 5804 and 5808 46th Avenue South, near the main gate of the navy base. The plane then bounced into another home at 5820 46th Avenue, and exploded scattering the plane and its fuel over the neighborhood.
Some 20 or more children were at play in that block when the plane crashed. Some of them were littered with debris and flaming fuel. The injured were taken to Veterans Hospital, General Hospital and the Navy infirmary at the airport.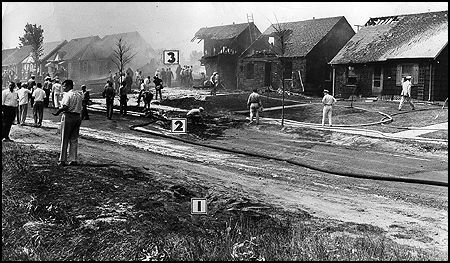 Top Image: Front page the Minneapolis Star – June 9, 1956
Bottom Image: June 9, 1956 Navy Jet Crash aftermath – Minneapolis, MN