On This Date In Twin Cities History - May 2, 1878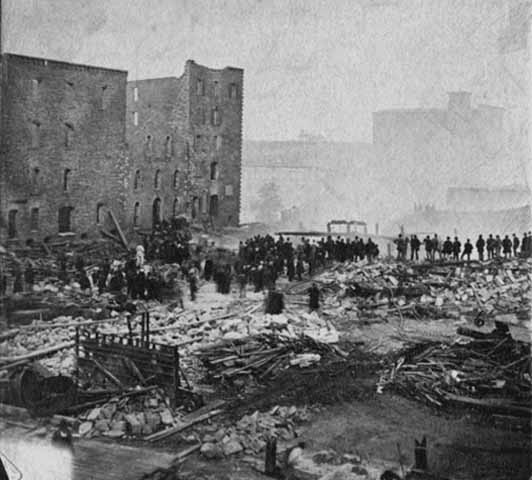 On this date in 1878, the seven-story Washburn A Mill in Minneapolis is destroyed in a series of three explosions killing fourteen workers inside the mill.
The massive A Mill had been built only four years earlier by Cadwallader Washburn, a businessman from LaCrosse, Wisconsin. The mill was located in the heart of Minneapolis on the Mississippi River, near St. Anthony Falls.
The night crew had arrived at the mill around 6:00 PM that evening. Little more than an hour later, at about 7:20 PM, three explosions occurred destroying what had been the largest stone structure in Minneapolis and the largest mill in the world at that time.
Shortly after the initial blast at the A mill, fire spread to the adjacent Diamond and Humboldt mills and they exploded as well killing another four workers. The blasts were heard ten miles away in St. Paul.
At the inquest into the explosion and resulting deaths of the eighteen workers, John A. Christian, the A Mill's manager, explained that rapidly burning flour dust had caused the disaster. This explanation was later confirmed by two University of Minnesota professors who reviewed a series of controlled experiments that caused flour dust to explode. It was concluded that two of the millstones, running dry, had rubbed against each other, causing the spark that ignited the mill dust.
Even as the fire from the explosion was still smoldering, owner Cadwallader Washburn announced that he would rebuild the mill, and by 1880, his new A Mill was up and running. The new mill was designed to be safer and more technologically advanced than its predecessor, and with a greater production capacity.
The second A Mill operated for several more decades. However, following the decline of the local milling industry, it closed in 1965. It remained vacant until a 1991 fire destroyed the building. In 2003, the Mill City Museum opened which incorporates the ruins of the second A Mill.
A monument was erected in Minneapolis' Lakewood Cemetery in 1885 honoring the memory of the eighteen men killed in the explosions. A plaque on the monument lists the names of the men who perished that night and includes engravings of a sheaf of wheat, a millstone, and a broken gear. To this day, the disaster is considered the worst of its kind in Minneapolis' history.