On This Date In Twin Cities History - May 1, 1914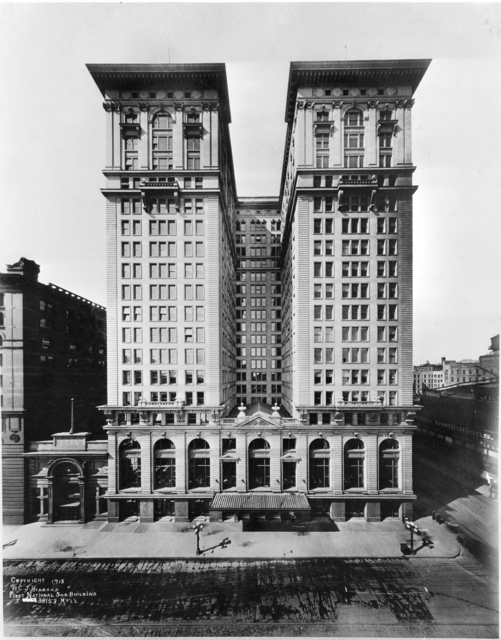 On this date in 1914, construction began on the First National Soo Line Building in Minneapolis. The nineteen story building was completed less than a year later on March 1, 1915 and was Minnesota's tallest building until the construction of the 26 story Foshay Tower in 1929.
New York architect Robert Gibson designed the Soo Line building in the classical Renaissance Revival and Beaux Arts style. It featured a prominent cornice, symmetrical facade and balconies with views of the city. The 268-foot-tall building featured 70,000 square feet of window glass, which at the time, was the largest glass contract in the Northwest. 4,500 cubic yards of Minnesota limestone were used during construction. To protect against fires, the Soo Line Building was designed to be virtually wood free and was constructed chiefly from cement, marble, tile and metal.
According to the Minneapolis Morning Tribune from March 1, 1915, 5,000 people attended the opening of the skyscraper. An informal reception was held on the 17th floor of the building. The public was allowed to travel to the 19th floor, via one of the buildings nine elevators, to view Minneapolis from above.
Only 2,500 hundred invitations were originally sent out for the event. However, when a crowd of 5,000 gathered to watch the president of Thompson & Starrett Company, the building's contractor, turn the keys over to the presidents of the Soo Line Company and First National Bank, anyone who wished to was allowed to enter the building.
First National Bank, now known as U.S. Bancorp, officed out of the First National Soo Line Building until 1960 when they moved into a new skyscraper on Nicollet Avenue. The Soo Line Company was purchased by Canadian Pacific Railway in 1992 and maintained its offices in the building until 2011 when it was purchased by Michigan-based developer Village Green Properties for $11.3 million.
In October 2012, work began to convert the building into a 254-unit luxury apartment building with street-level restaurant. The project was completed in the Fall of 2013 and today operates as the Soo Line Building City Apartments.