On This Date In Twin Cities History - April 23, 1897
On this date in 1897, the Minnesota Legislature allocates $5,000 to open the State Hospital for Indigent, Crippled, and Deformed Children in St. Paul. Located at the City and County Hospital of St. Paul, it was the first state-funded hospital of its kind in the nation.
The hospital was founded by Dr. Arthur J. Gillette to entrust the state with the care of children with orthopedic disorders whose parents could not afford treatment.
By 1905, it was evident that a new home for the hospital was needed. In 1907, the St. Paul Business League and Commercial Club, along with other citizens of St. Paul, donated land adjacent to Phalen Park as a new site for the new hospital. Designed by renowned St. Paul architect, Clarence Johnston, the new sanatorium, as well as a new educational & industrial school building was completed in 1913.
In 1925, as a memorial to its founder, the hospital was renamed as the Gillette State Hospital for Crippled Children. In 1971, the name of the hospital again changed to the Gillette Children's Hospital as a result of the diversity of cases being admitted. In 1977, the hospital was moved to the St. Paul-Ramsey Medical Center (now Regions Hospital).
Today, Gillette Children's Specialty Healthcare, as it is now known, operates as a self-supporting, nonprofit organization serving more than 25,000 patients a year at more than 15 locations around the State of Minnesota.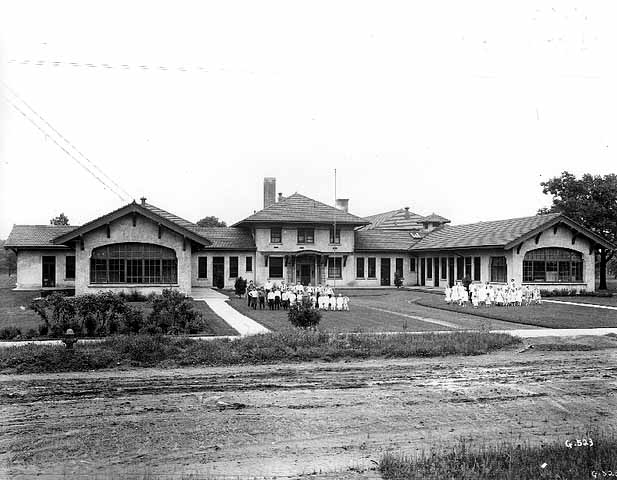 Gillette State Hospital for Crippled Children in St. Paul circa 1920 (MHS)