On This Date In Twin Cities History - April 11, 1680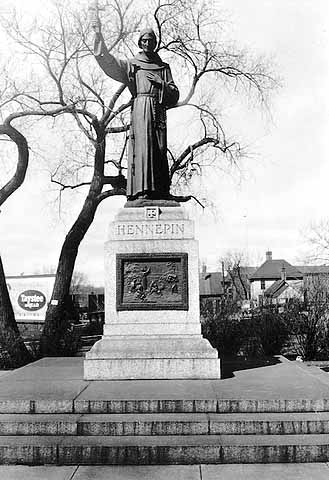 On this date in 1680, Father Louis Hennepin and two companions are captured at Lake Pepin by a Dakota war party.
Hennepin, a Roman Catholic priest and missionary, had been sent along with Michel Accault and Antoine Auguelle (Picard du Gay) to explore the section of the Mississippi north of the Illinois River. The men were part of René-Robert Cavelier Sieur de la Salle's exploration of the upper Mississippi.
When the Dakota took the men captive, they were brought to a village near Mille Lacs Lake. During their captivity, Hennepin and Auguelle were granted permission by the Dakota to canoe down the Mississippi to the mouth of the Wisconsin River. There, they planned to collect supplies that the La Salle expedition had left for them.
During this trip, Hennepin and Auguelle first encountered the waterfall on the Mississippi in the area that is today Minneapolis. Hennepin named the falls in honor of his patron saint, St. Anthony of Padua. On July 25, 1680, explorer Daniel Greysolon, Sieur du Lhut (also known as du Luth) arrived at the Dakota village to negotiate the release of Hennepin, Accault, and Auguelle.
By August, the three captives had begun their travels back to French forts in eastern Canada. In the fall of 1861, Hennepin left Canada and returned to France. He died on December 5, 1705 in Rome.