On This Date In Twin Cities History - March 31, 1934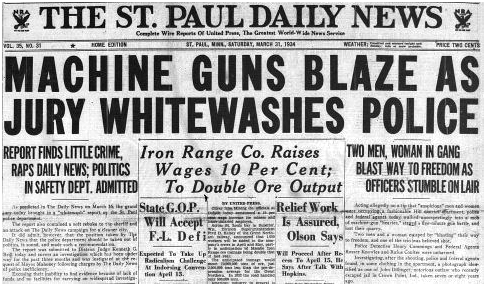 On this date in 1934, John Dillinger, along with Mary Evelyn "Billie" Frechette, and Homer Van Meter, were involved in a shootout with two FBI agents and a local police detective at the Lincoln Court Apartments in St. Paul.  During the exchange of gunfire, Dillinger was wounded in the leg and escaped to the clinic of Dr. Clayton E. May in Minneapolis.
Dillinger and his girlfriend Mary Evelyn "Billie" Frechette moved into Lincoln Court Apartment #303 on March 19, 1934 so that Dillinger could recover from gunshot wounds he suffered the week prior during a bank robbery in Mason City, Iowa.  The two registered as Mr. and Mrs. Carl P. Hellman.  The building owner, Daisy Coffey, became suspicious of the couple almost immediately.
Responding to a tip from Coffey, FBI agents Rufus Coulter and Rosser Nalls, along with backup from St. Paul police detective Henry Cummings surveilled the apartment overnight on March 30, 1934.  The following day around 10:15 AM, agent Coulter and detective Cummings knocked on the door of apartment 303 while agent Nalls waited outside the building.  Answering the door, Frechette stalled the lawmen and alerted Dillinger to their presence.
Meanwhile Homer Van Meter had just arrived at the Lincoln Court Apartments in a green Ford coupe.  He walked inside toward apartment 303 and encountered the lawmen.  Claiming he was a soap salesman, Van Meter led Coulter down to the first floor and opened fire on him with an automatic pistol.  Coulter exited the front of the building and returned fire with with Van Meter pursuing him.  Nalls joined the gunfight and Van Meter retreated back into the apartment building.
Around the same time, Dillinger cracked the door of apartment 303 and sprayed the hallway with bullets.  Detective Cummings took cover and returned fire hitting Dillinger in the leg.  Dillinger and Frechette escaped via the rear entrance of the Lincoln Court Apartments.
Across the alley from the apartment complex, Frechette backed a black Hudson sedan out of a three-car garage located at 1123 Goodrich Avenue.  Dillinger got into the car and the two drove off.  Meanwhile, Van Meter hijacked a garbage collector's horse, disguised himself under the hauler's cap and galloped away.  None of the lawmen were injured in the shootout.
Later that morning, Dillinger and Frechette showed up at the back door of Dr. Clayton E. May's clinic at 1835 Park Avenue in Minneapolis.  The bullet that hit Dillinger had passed right through his leg.  May treated Dillinger for the next four days giving him injections of anti tetanus serum and bandaging the wound.  On May 4th, Dillinger and Frechette left Dr. May's clinic in the same Hudson sedan they arrive and headed for a family reunion in Mooresville, Indiana.