On This Date In Twin Cities History - March 27, 1960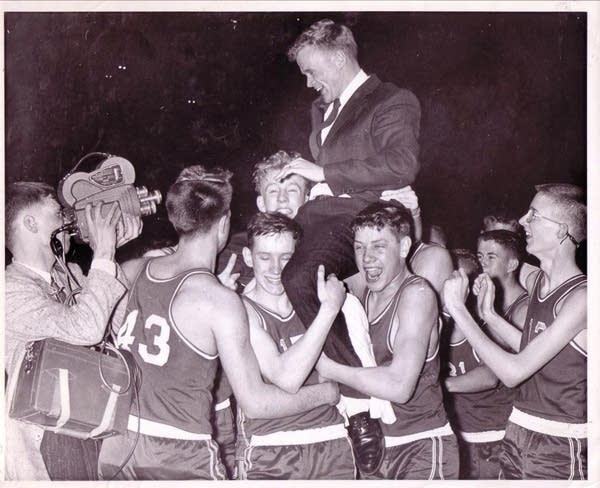 On this date in 1960, Edgerton High School wins the Minnesota State boy's basketball championship at Williams Arena on the University of Minnesota campus making it the smallest school ever to win the Minnesota state tournament.
At a time when big schools and small schools competed together in a one-class tournament, the tiny southwestern town of Edgerton became the Hickory Hoosiers of Minnesota. With a population of only 961 residents, the Edgerton Flying Dutchmen made an improbable run to the Minnesota state championship.
Having lost in district title game by one point the prior year, the Dutchmen weren't expected to do much the season of 1959-1960. However, the team went on to an undefeated 18-0 record in the regular season and followed that by winning the district and region championships to make it to the Minnesota state basketball tournament. At the time, the state tournament was a one-class, eight team championship.
In their opening game of the tournament at the University of Mnnesota's Williams Arena, the Dutchmen upset the Chisholm Bluestreaks 65-54 setting up a game with the top-tanked Richfield Spartans. Playing as a huge underdog, Edgerton took Richfield to overtime and ultimately defeated the Spartans 63-60.
The championship game against Austin was played before 19,018 wild fans at Williams Arena. The Dutchmen controlled the game from the beginning and were able to sit their seniors towards the end, finishing off a 72-61 victory to clinch the 1960 state championship and finishing undefeated at 27-0.
After the 1969-70 season, the Minnesota State Boys Basketball Tournament switched to a two-class format assuring that never again would we see a David vs Goliath for the state championship.