On This Date In Twin Cities History - March 26, 1960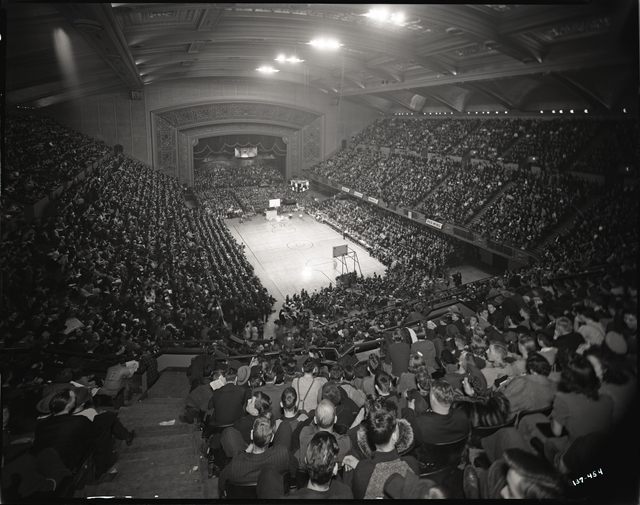 On this date in 1960, the National Basketball Association's Minneapolis Lakers play their final game before moving to Los Angeles. The game was a 97-86 loss to the St. Louis Hawks in game 7 of the Western Division finals.
The Lakers' franchise began play in Minnesota in 1947 when Ben Berger and Morris Chalfen purchased the recently disbanded Detroit Gems franchise of the National Basketball League (NBL) for $15,000. Legendary Star-Tribune columnist Sid Hartman was key in bringing the team to Minnesota in 1947 and served as their first acting general manager. He would go on to help build the team into what became the first dynasty in the NBA.
Shortly after acquiring the team, John Kundla was hired as the first head coach. The franchise was re-named the "Lakers", a reference to Minnesota's nickname, "The Land of 10,000 Lakes." The team played at both the Minneapolis Auditorium and the Minneapolis Armory.
That same year, the Lakers had the first pick in the disbanded Professional Basketball League of America's dispersal draft, which they used to select George Mikan. Mikan would go on to become one of the legends of the game.
With Mikan and a number of former University of Minnesota players, Kundla coached the Lakers to the 1948 NBL championship in their first season. The following year, the Lakers moved to the 12-team Basketball Association of America (BAA) and proceeded to win that league's championship as well. Since the BAA is considered the predecessor of today's NBA, the 1949 BAA championship is recognized as an official NBA championship for the Lakers. The Lakers would go on to win additional NBA championships in 1950, 1952, 1953 and 1954.
In addition to George Mikan, the Laker's roster included other legends such Vern Mikkelson Jim Pollard , Whitey Skoog, Dick Garmaker and Elgin Baylor. Hall of Fame coach of the Minnesota Vikings, Bud Grant, even played two seasons with the Lakers.
After the 1954 season, injuries forced Mikan into retirement. As a result, attendance at Lakers games dropped off sharply. In 1957, the Lakers were nearly sold to a group from Kansas City, before local businessman Bob Short and other investors purchased the team keeping it in Minneapolis. The team continued to have financial issues, however
In 1958, Major League Baseball's Brooklyn Dodgers moved to Los Angeles and quickly became a huge financial success. This caught Short's attention and after considering moves to Chicago and San Francisco, he decided to move the franchise to Los Angeles prior to the 1961 season. This made the Lakers the NBA's first West Coast team. The NBA would not return to Minnesota for another 29 years when in 1989 the NBA expansion Minnesota Timberwolves began play the Target Center in downtown Minneapolis.