On This Date In Twin Cities History - March 12, 1901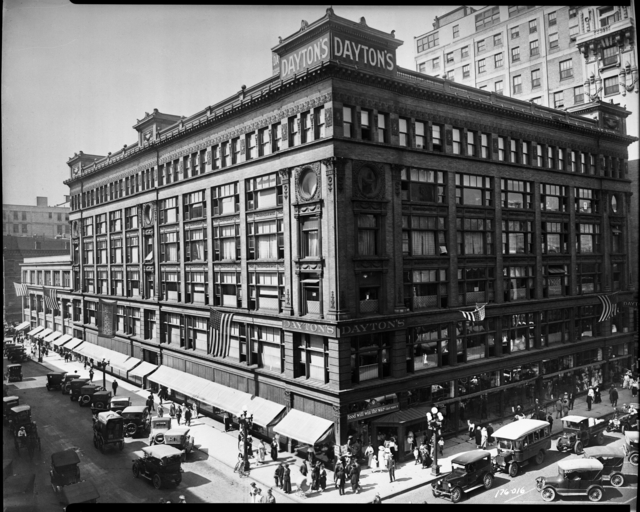 On this date in 1901, George Draper Dayton, a banker and real estate investor, purchased 52 feet on Nicollet Avenue in Minneapolis for $30,000 cash. This added to adjoining purchases he made the previous year in May and December.
The following year in 1902, Dayton built an office building at the corner of Seventh and Nicollet in Minneapolis. The major tenant for this building was the Goodfellow's Dry Goods Company in which he became a part owner that same year. At the time, Goodfellow's was the fourth largest department store in Minneapolis.
In 1903, Dayton became the sole owner of the store and became the first President of the newly named Dayton Dry Goods Company in 1903.
In 1911, after a decade of rapid growth, Dayton Dry Goods Company was renamed The Dayton Company to better reflect its wide assortment of goods and services. Likewise, the store became commonly known as Dayton's department store.
The original downtown Minneapolis building expanded eight times over the years. By 1946 the original six-story corner building grew to three-quarters of the entire block and rose to twelve floors.
When Nelson Dayton died in 1950, his five sons took over the business. In 1962, Dayton's opened a new concept store aimed at discount shopping. The first Target store was opened in Roseville followed by stores in St. Louis Park, Crystal and Duluth.
In 1969 Dayton's merged with the J.L. Hudson Company of Michigan and became Dayton Hudson Corporation. Dayton Hudson bought the Brown stores of Oklahoma in 1971 and Mervyn's of California in 1978. By 1979 Dayton Hudson had stores in forty-one states.
The last of the Dayton brothers retired from the company in 1983. The company's profit that year amounted to $243 million while the Target division's chain had grown to eighty stores with sales over $1 billion.
In 1990, the Dayton Hudson Corporation acquired Chicago-based Marshall Fields. In 2000 reflecting the company's focus on the Target discount store model, Dayton Hudson changed its name to Target Corporation. The following year, the Dayton's stores all took the Marshal Field's name.
In 2004, Target sold the Marshall Field's department store chain to the May Department Stores Company and the following year, May was acquired by Federated Department Stores, Inc. which operated Macy's.
By 2015, what began as a single department store in 1902 had become a national discount empire with nearly 1800 stores.
The very first Dayton's store located at 7th and Nicollet remained open under various names for 115 years until 2017. Today the 'Dayton's Project' is under way renovating the original location creating a first of its kind office, retail, and entertainment space in Minnesota. The project is expected to be completed in the Spring of 2020. Total costs for renovating the building are estimated at $200 million.
Image: Dayton's Department Store circa 1915 – Minneapolis