On This Date In Twin Cities History - March 10, 1916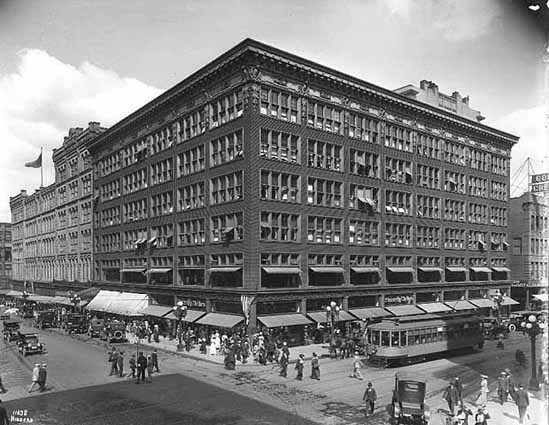 On this date in 1916, twenty-five firemen were injured battling a fire at the Standard Clothing Company located at the corner of Sixth Street and Nicollet Avenue in Minneapolis' "Syndicate Block". The Minneapolis Morning Tribune the following day reported that the twenty-five firemen "were dragged from the building unconscious." The fire caused $30,000 in damages.
In 1881, twelve Minneapolis businessmen formed a syndicate and purchased a prime lot along Nicollet Avenue for $77,500. Designed by architects Frederick Kees and Burnam F. Fisk, the 250,000 square foot Syndicate Block building was built between 1882 – 1883 and was the city's first block long commercial structure.
The building where the fire occurred, however, was not part of the original Syndicate Block structure built in the 1880's. Five years earlier, on March 4, 1911, a major fire broke out in the Syndicate Block building destroying the south half of the original structure.
The original Victorian design featured facades of light Ohio sandstone with ornate columns, pilasters and hooded windows. The rebuilt southern portion featured contrasting terracotta brick and classical cornice. In the 1950's, J.C. Penny leased the entire building eventually encasing it in metal panels hiding the original design.
In the 1980's, J.C. Penny moved out and the building was demolished in 1989.
Image: Syndicate Block on Sixth and Nicollet in Minneapolis circa 1916 (MNHS)