On This Date In Twin Cities History - March 7, 1950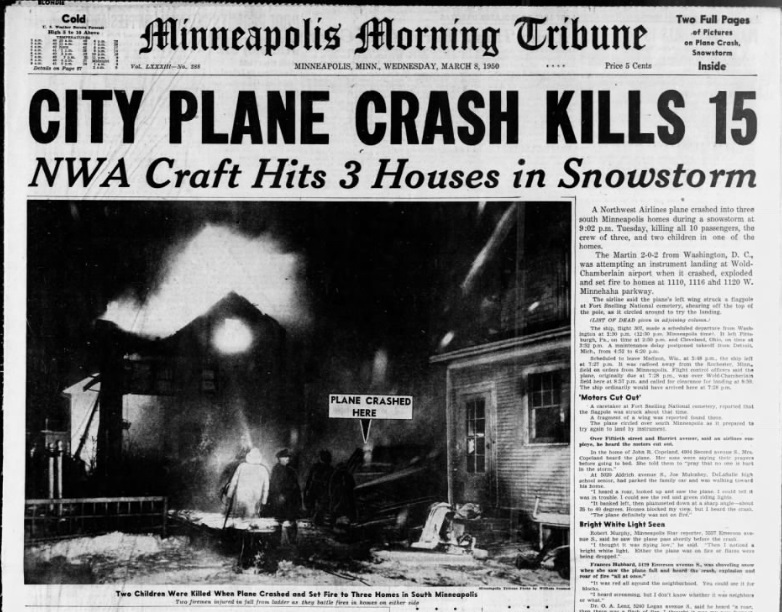 On this date in 1950, Northwest Airlines Flight 307 crashes in Minneapolis during a snowstorm.
The Martin 2-0-2 twin-engine plane, inbound from Madison, WI, was attempting an instrument landing at Wold-Chamberlain airport (now Minneapolis St. Paul International) when its left wing clipped a 70 foot-tall flagpole at Fort Snelling National Cemetery. The collision, which occurred just 650 feet from the runway, sheered off the top of the flag pole and damaged the plane's wing.
After striking the flagpole, the plane aborted the landing and continued northwest of the the airport for another four miles. While over south Minneapolis, the damaged wing totally detached from the plane and plummeted to the ground, landing near the foot of the Washburn Park water tower. Witnesses claim they heard the engines cut out about this time. Nine blocks west of the water tower at 9:02 PM, the plane crashed, exploded and set fire to three homes located at 1110, 1116 and 1120 West Minnehaha Parkway.
All ten passengers and three crew members aboard the plane were killed. Two children in one of the homes on the ground, Janet and Tommy Doughty, were also killed.
Between August 1948 and January 1951, five of Northwest Airline's fleet of twenty-five Martin 2-0-2 planes crashed resulting in the deaths of 89 people. Northwest ultimately withdrew all 2-0-2s from service at midnight, March 17, 1951. The remaining twenty planes were sold or leased to local service airlines. Northwest never operated the Martin 2-0-2 again.
In 2011, a memorial marker was placed near the site of the crash at 1114 West Minnehaha Parkway. This memorial is dedicated to the 15 people who lost their lives on that snowy night.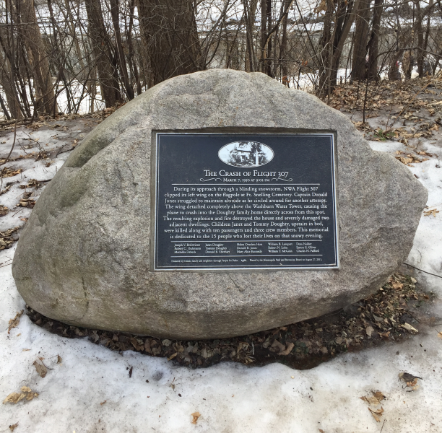 Top Image: Minneapolis Star Tribune – March 8, 1950
Bottom Image: Northwest Flight 307 memorial at 1114 W. Minnehaha Parkway in Minneapolis