On This Date In Twin Cities History - February 12, 2000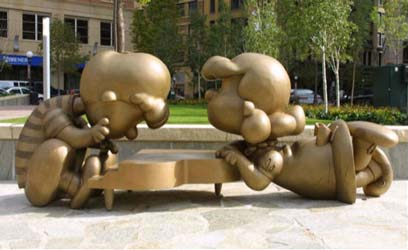 On this date in 2002, cartoonist Charles M. Schulz dies in Santa Rosa, California.
Schultz, who was born in Minneapolis in 1922 and raised in St. Paul, was the creator of the comic strip Peanuts which included characters such as Charlie Brown and Snoopy.
Schulz attended Richards Gordon Elementary School in Saint Paul, where he skipped two half-grades.  He was the youngest member of his graduating class at St. Paul's Central High School.  Around 1943, Schultz was drafted into the army and served as a staff sergeant with the 20th Armored Division in Europe during World War II.
Schultz enjoyed drawing from a very young age.  His first group of regular cartoons, a weekly series of one-panel jokes called Lil' Folks, was published in the St. Paul Pioneer Press between June 1947 to January 1950.  In May 1948, Schulz sold his first one-panel drawing to The Saturday Evening Post.  Over the next two years, Schulz had 17 of his untitled drawings published in the Post.
On October 2, 1950, Peanuts appeared in newspapers for the first time.  The comic strip would go on to be published for almost 50 years.  At the height of its popularity, Peanuts was printed in 2,600 newspapers in 75 countries and translated into different languages.
On May 27, 2000, Schultz was honored by cartoonists of more than 100 comic strips, who paid homage to him and Peanuts by incorporating his characters into their strips that day.  Schultz life was celebrated in his hometown of St. Paul throughout the summer of 2000 with 101 individually decorated, five-foot-tall statues of Snoopy.
Schultz received numerous awards throughout his life including being inducted into both the United States Hockey Hall of Fame (1993) and the  United States Figure Skating Hall of Fame (2007) for his contributions to the sports via his work.
Image: Bronze statue of Schultz' Peanuts characters displayed in Rice Park in St. Paul