On This Date In Twin Cities History - February 11, 1888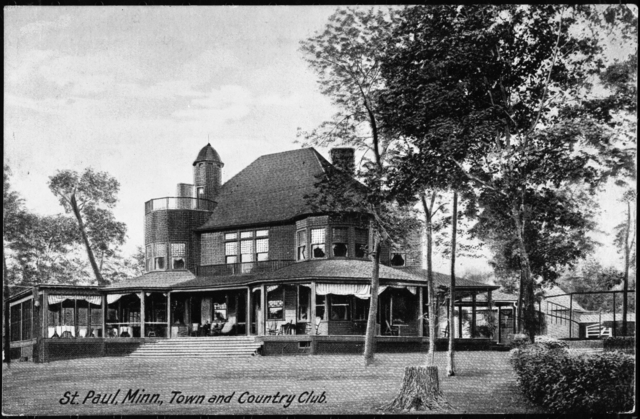 On this date in 1888, the Town & Country Club, Minnesota's the first "country club", is founded on the shores of St. Paul's Lake Como.
Founded as a social club, membership initially included around sixty patrons from both St. Paul and Minneapolis' upper class. The Club met in a private home located on Lake Como.
Membership quickly outgrew its original location and in 1890, the Club moved to its present home in St. Paul's Merriam Park (now Union Park) neighborhood.  This location was chosen as it was more centrally located between Minneapolis and St. Paul.  The original Town & Country Club building was designed by prominent architect, Cass Gilbert, who also designed Minnesota's state capitol. The Club was built in the early 1890's at a cost of $25,000.
In its early years, the Town & Country provided a number of social activities for its members, such as bowling, skating, table games, cards, tennis and fine dining.  Ironically, golf was not part of the original plan when the club was established.  In 1888, the game was still in its infancy in the United States.  The first round of golf was played at the Town & Country in 1893, making the it the birthplace of golf in Minnesota.
Town & Country Club member, William F. Peet, and George McCree, a Scotsman familiar with the game, laid out the original five holes on the Club's grounds that year.  A few years later, in 1895, E.J. Frost, a well-known amateur golfer from Chicago, was hired to refine and design a full nine hole course for the Town and Country.  The budget for the project was $2000.
On June 9, 1898, the course was opened for play. That same year, the Club's first golf pro and golf club craftsman, Robert Foulis, was retained from Saint Andrew's Golf Club of Hastings-on-Hudson, New York.
Town & Country Club's golf course is considered by some to be the 2nd oldest golf course in the United States still being played on its original land, behind only Shinnecock Hills Golf Club in New York.