On This Date In Twin Cities History - January 23, 1855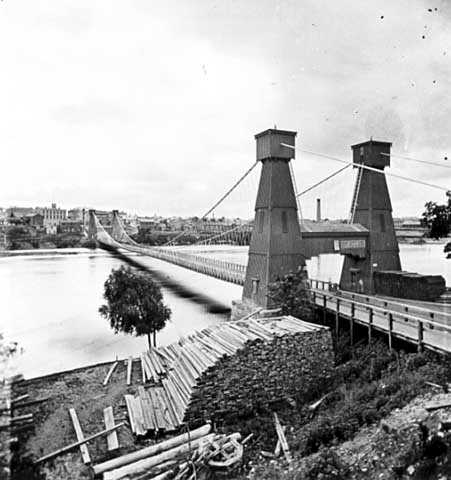 On this date in 1855, the first bridge over the Mississippi River opened. The Father Louis Hennepin Bridge spanned the river connecting the cities of Minneapolis and St. Anthony just above the St. Anthony Falls. Engineer Thomas W. Griffith was chosen to lead the construction project. Griffith and his team began work on May 5, 1854. When completed, the suspension-style bridge cost $36,000.
Its opening day celebration included a large parade in front of the St. Charles Hotel in Saint Anthony, complete with sleighs filled with people, banners, and a marching band. Almost immediately after opening however, the bridge was plagued with safety issues. On March 25, 1855, a tornado tore through the area, almost destroying it. The bridge was subsequently rebuilt and reopened on July 4 that same year.
Safety and capacity concerns persisted and the rapid growth of both St. Anthony and Minneapolis drove the need for a new higher capacity bridge. When the work began on the original structure in 1854 there were roughly 450 inhabitants in the city of Minneapolis and nearly a thousand in St. Anthony. By 1860, the combined populations of both cities had increased to 5,700.
This original Father Louis Hennepin bridge lasted just 22 years. A new replacement bridge, built just to the north of the original, opened on February 22, 1877. The first bridge was destroyed soon after.
(Image: Father Louis Hennepin Bridge circa 1868 (MHS))